BIO
MATTHEW IS DEVOTED TO MOTHER EARTH THROUGH MUSIC. HIS practice EMBODIES DEEP relationship TO NON-HUMAN KIN, SPIRIT and INDIGENOUS WAYS.
Matthew O'Neill is a musical artist and performer based in the Catskill mountains. His musical practice is rooted in Indigenous musical ontologies; ways of knowing and participation through sound. He is committed to restoring the central role of music in maintaining relationship, balance, resilience, innovation and thriving in harmony with Mother Earth and the Cosmos. The result is a dynamic feeling of connection to living systems and a sense of empowered resistance to outdated destructive paradigms. His albums have received critical acclaim and he has collaborated with many world class and award winning musicians and engineers.
His work offers gratitude and appreciation as per the original instructions, carrying out the responsibility of musical reciprocity. Kinship with non-human relatives is a central theme. He speaks out against the injustices that are clear to see and acknowledges the necessity to always give space for humor, a form of medicine like music. Matthew has an academic background that includes wisdom traditions, musical ethnography, soundscape ecology, cultural anthropology, and history. He started and runs an Indigenous based music label called Underwater Panther Coalition which focuses on decolonizing music and listening modalities while directly supporting native artists and their communities. His mission is to help connect people to Mother Earth through music and fulfill obligations of reciprocity through sound, prayer, and action. He is actively engaged in supporting Indigenous rights, land rights, and connecting culture back to the land.
O'Neill's songwriting acknowledges the interconnectedness of all things and often features poetic allegory centering on non-anthropocentric articulations of gratitude, joy, suffering, celebration, and loss. Acknowledgment of the complexities and vulnerability of our humanness in relationship to all life is woven into his work. Decolonizing and reindigenizing music is a central commitment.
MATTHEW LIVES AND BREATHES THE KIND OF SPIRITUALLY EXPANSIVE MUSIC THAT ALLOWS THE LISTENER TO BRING THEIR OWN TRIP TO THE TRIP.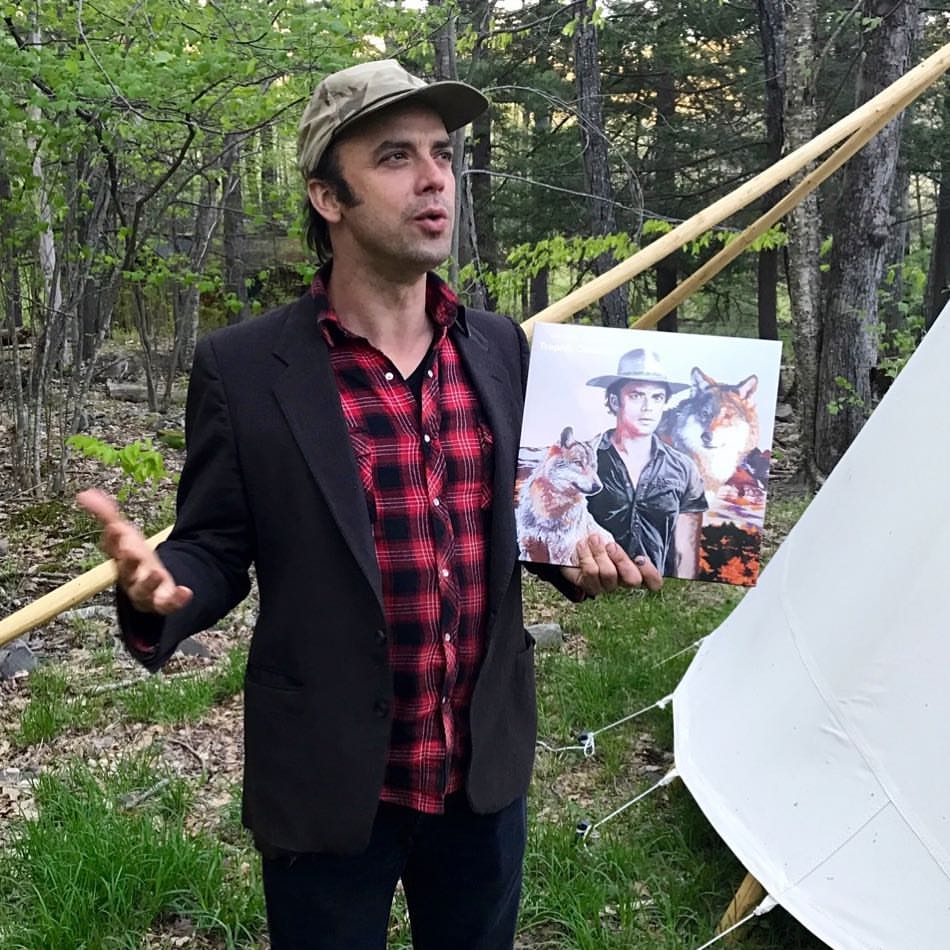 At age 13, Matthew began playing music as a way to express new found mystical experience and awareness. Music became a way to connect with the infinite and to explore relationships grounded in that potential. Born in the northern region of Haudenosaunee territory, Hamilton, Ontario, Matthew spent much of his youth joyously alongside his father in the Eastern Woodlands and coast. He got his start in the Philly area diy scene, putting on basement shows and benefit concerts. His first band Milkweed, consisted of a close knit brother friend group. A cross between Sonic Youth, live CSNY and Funkadelic, their music has stood the test of time. Transformative experiences as a young teen led to him a life of relation and commitment to Indigenous ways.
After 2 years at 2 different alternative colleges, he removed himself from the world of man and sought out the education of experience in the wilderness of the American West. Where most artists venture to the city to find success, he went to the wild for education. For several years he lived in vast backcountry areas across North America. Everyday was an adventure of deepening reverence and growth. It was a time of interaction, prayer, communion, and study. A shedding of domesticity that yielded an ever-increasing spiritual strength, awareness, and mental clarity grounded in the traditions of the original peoples of Turtle Island. These experiences were channeled into music and writing. During this time, plant medicine, foraging, primitive skills, and Indigenous teachings became integral parts of his life. It was what could be called a decolonization intensive.
Following this prolonging rite of passage, Matthew began working seasonal jobs on remote ranches and biodynamic farms, and he pursued parallel interests of eco-design and regenerative practices. He enjoyed working with horses as a wrangler while developing his songwriting skills in places like Colorado, New Mexico, Arizona, and California. In the early 2000's he was working with draft horses in Northern California and involved in the community at Occidental Arts and Ecology center.
Leaving Wheeler ranch, he formed Maiden Creek Lodge in Groom Creek, Arizona. The band performed and recorded locally in the mile-high alternative college town of Prescott, where he studied. During travels back East he felt himself newly at home in the Catskill mountains of New York, and soon after moved into a caretaker shack at an old ballet camp in Big Indian, NY. During this time he founded and built Atlantic Sound Studios in Brooklyn, NY with friend Diko Shoturma. Atlantic Sound has seen the likes of Bjork, St. Vincent, Harry Belafonte and many others. During this time the 'downtown' scene was happening and he engaged in the intersection of art and music that was blossoming at the time while also maintaining a devoted music practice in the Catskills.

In 2009, Matthew moved with his wife and young son to Los Angeles, and began performing in the area while working in the day doing eco landscaping, mainly in the Echo Park / Highland Park. He rented an off-the-grid shack above Topanga and there finished an album he'd began in the Catskills the previous year. Towards the end of his time in LA, fellow Topanga resident and qigong, herbalist, tai chi, and shakuhachi extraordinaire, Bill Fiorella heard him perform several times and asked him to sign to Lone Pine Records. with a classic Sun Ra / Pharaoh Sanders aesthetic they recorded 'Campfire Cook' in the mountains two hours east of Los Angeles. By this time O'Neill was living in Mt. Airy, Philadelphia. The album was recorded completely analog over the course of 3 days of sonic conjuring with some incredibly sympatico players, including Toby Williams on drums (Curtis Mayfield), using Daniel Lanois' hand me down analog gear.

He toured nationally in support of Campfire Cook, performing solo and with a band. The tour was capped off with a record release show in Topanga at Carla and Matt Morgan's featuring all the players from the record. Returning to Woodstock, he began working on a new album at Atlantic Sound. Co-producing with Diko Shoturma (bjork, st. vincent, david crosby), they began recording in early 2016 and finished at the end of the year. The record is called Trophic Cascade and in May 2017, 500 copies of the double lp were made available via O'Neill's Underwater Panther Coalition.

The album kicks off with "Bridge Builder", a fierce folk/rock call-to-action full of stomp and swagger ("i'm a bridge builder/i'm a lonely star / i'm a wildcat criminal / kicking down your stall"). Matthew says, "'Bridge Builder' exists at a confluence of Native ways, failing political systems, concepts of personal freedom and alternative positive futures. The rest of the record follows suit, exploring juxtapositions and relationships from my own perspective, which are deeply informed by native American ways." O'Neill sets the tone early—but this is no one-note outing. The album embodies an infusion of many genre sources.

"Matthew lives and breathes the kind of spiritually expansive music that allows the listener to bring their own trip to the trip." O'Neill offsets an edgy malevolence on "Poisoning the Well" ("and you got that blood stained white t-shirt from when they took her from you / and i got those guilt- ridden old sneakers, hanging on the line") with the shimmering soulful "Louisiana", the delirious psychedelia and tribal drumming of "1000 years", and the wisened beauty of "Relaunching" (just relaunching /just launching again / just being born now / just being born again / so i can see you / so you can see me again).

All songs on Trophic Cascade were written and performed by Matthew O'Neill (guitar, lead vocals), backed by a luscious layering of baritone sax and contrabass clarinet by Stuart Bogie, (arcade fire, david byrne & st. vincent); synth/keys by Frank Locrasto (cass mccombs); vocals by broadway's Shayna Steele; cello by Dave Eggar, (patti smith, paul simon, sia); bass by Jacob Silver (lucinda williams, charles bradley). The album saw Matthew using the studio in a Bowie-esque way, as an instrument for sound, arrangement, and collaboration.

After touring on Trophic Cascade and returning home to the Catskills he began work on Kyll Time. A record that is a bit like Roxy Music goes on a mountain retreat. Matthew's acumen for multi-dimensionality runs throughout the album's entirety. The songs work in different ways, from subliminal to fierce, but there is a late summer evening vibe that unifies the endeavor. KYLL TIME starts off with 'Osprey' a magically realistic portrait of a river scene and its hidden dimensions, followed by 'Timbuktu' which features a mythic tale of repatriation amongst watery caves and an exploding casino. The title track, Kyll Time, is an astute portrait of contemporary life in the Catskills from a woman's perspective, followed by 'Starlight Lanes' which tells a tale that juxtaposes the 'good and bad' of human nature in a wild way. And that's side A…

The follow up to the critically acclaimed Trophic Cascade, O'Neill dove into more unconventional musical realms and experimentations as part of this albums' exploratory process. While on those sonic ventures, which were also recorded, these songs came along. For Kyll Time, O'Neill cast a super talented crew to throw down and get deep in the recording session. Ryan Jewell plays drums (Ryley walker, Steve gunn), Boshra Al Saadi slays bass and sings gorgeous harmony (TEEN, Bu Bu Gang), Matt Smith guided waves on the Voyager synth and Deluge sequencer and Joshua Druckman (Luke Temple, Blonde Redhead, Yeasayer) coordinated the signals from the Neve console. Kyll Time was mastered by Heba Kadry and cut to vinyl by Amy Dragon. The album had a somewhat untimely release a couple days before the covid lockdown. Nevertheless, it has quietly retained legs with great songs like 'Happy', 'Standing Rock', and 'On the Way' which continue to get respectable play. 'Standing Rock' makes a fierce statement and is served well by the music video, made using mainly footage O'Neill shot while protesting.